Welcome to Robbinsdale Middle School Weather
Robbinsdale, Minnesota
Sunday, September 27, 2020
NWS Short Term Forecast:


This
Afternoon


Scattered Rain Showers

Scattered rain showers after 4pm. Partly sunny. High near 65, with temperatures falling to around 61 in the afternoon. West wind 15 to 20 mph, with gusts as high as 30 mph. Chance of precipitation is 30%.
Tonight



Scattered Showers And T-Storms then Partly Cloudy

Scattered rain showers before 7pm, then scattered showers and thunderstorms between 7pm and 8pm, then isolated showers and thunderstorms between 8pm and 9pm. Partly cloudy. Low around 48, with temperatures rising to around 51 overnight. Northwest wind 5 to 15 mph. Chance of precipitation is 30%.








Robbinsdale area radar and Weather Underground Maps
Radar and Fronts map are current. All others are not. WU issue.










NWS Story of the Day and Current Lightning map @Blitzortung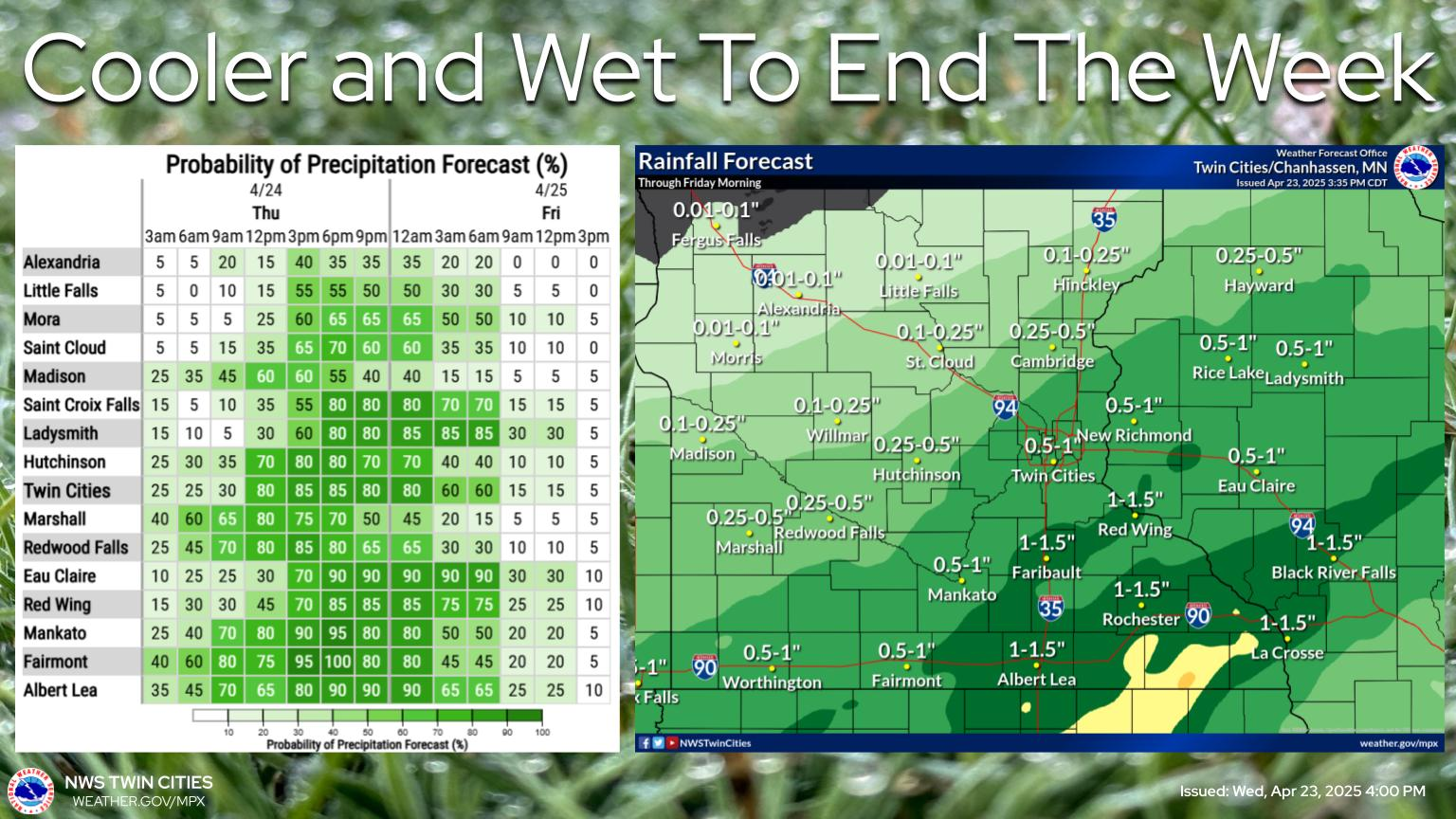 Robbinsdale Area 5 day Forecast
This
Afternoon

Scattered Rain Showers

Tonight


Scattered Showers And T-Storms then Partly Cloudy

Monday


Partly Sunny then Isolated Showers And T-Storms

Monday
Night

Mostly Cloudy

Tuesday


Mostly Cloudy

Tuesday
Night

Partly Cloudy

Wednesday


Mostly Sunny then Slight Chance Rain Showers

Wednesday
Night

Slight Chance Rain Showers then Mostly Cloudy

Thursday


Mostly Cloudy then Slight Chance Rain Showers

Thursday
Night

Slight Chance Rain Showers then Mostly Cloudy

Hi 65 °F ↓
Lo 48 °F ↑
Hi 57 °F
Lo 45 °F
Hi 62 °F
Lo 47 °F
Hi 60 °F ↓
Lo 44 °F
Hi 53 °F ↓
Lo 37 °F
Weather outside room 236


Put RMS Weather on your site or email Banners
Mr. Reynolds e-mail



Never base important decisions on this or any weather information
obtained from the internet.
Sunday, September 27, 2020